Why Indian startups are unable to compete with Foreign startups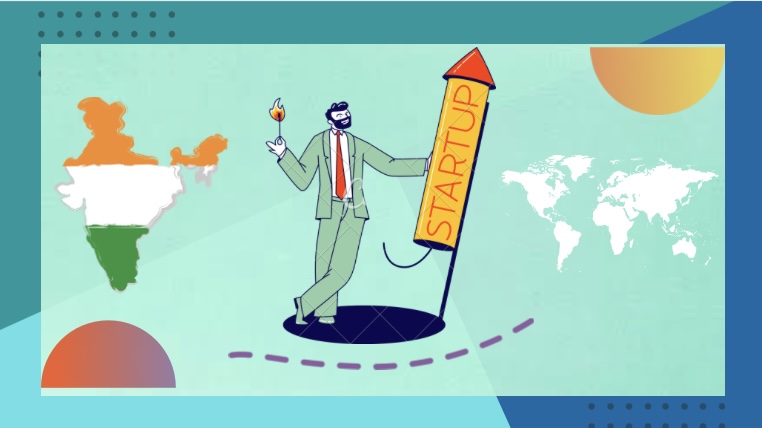 Why Indian startups are unable to compete with foreign startups? – What do you thing when first read this?
In today's digitalised world, everything across the globe is going through a major evolution and startups are no different. Many successful examples of entrepreneurship around the world have encouraged a lot of people to indulge in starting their own business in their own unique ways, which has directly led to the development of the mechanisms of startups.
Startups in India too are no different and have gone through a tremendous shift in their working mechanism in the past few years. Many successful startups in India like Zomato, Swiggy, Make My Trip, OYO, etc have established a significant presence all over the country and are all set to take over the global market.
But somehow despite their hard work and unique business ideas, many potential entrepreneurs are lagging behind due to the various challenges faced by them in the initial period of their venture which makes it difficult for them to compete with startups around the world.
---
Here are ten of the challenges listed below that restrict the potential entrepreneurs of our country to compete with foreign startups:
1. FINANCE
Financial stability is one of the most crucial steps at the beginning of any new venture. Now it is given that at the beginning of any new business we all depend on different sources for financial support like from our family, friends or loans, grants, crowdsourcing, etc.
But as the new venture expands, the fund requirement expands too. This is exactly where the problem arises as many times the increment of funds is not always possible through the medium of these financial sources, which will eventually lead to the problem of insufficient funding. As even though sufficient capital is available during the initial stage, capital requirements inevitably start to increase as the business transitions into the next stage, which thus, due to insufficient availability of funds are not being met.
Insufficient funding is one of the most common challenges that is faced by startups in India that many times leads to failure of the startups.
On the contrary Foreign start-ups are less likely to experience the problem of insufficient funding attributed to the mechanisms that are set up to secure funds for new ventures through strong and well-planned mechanisms.
---
2. INFRASTRUCTURE
Undoubtedly, technology and infrastructure play a crucial role in the journey of every startup in all its phases
In India despite various evolutions in the technological fields, there is still a lack of supporting mechanisms such as incubators, science and technology parks, business development centers and webinars, etc.
Along with this, it is evident that the availability of land and infrastructure is directly proportionate to the growing percentage of the population. This contributes to the shortage of availability of land and infrastructure further
However, most of the foreign countries, have a well-managed procedure for the same, that helps startups overcome these issues where with proper understanding and evidence of legitimate need and permission one can expand their area of the appliance to different infrastructures.
---
3. MENTORSHIP
Even a brilliant idea may not work efficiently if its execution is not carried out in the right way.
This is another major problem that is mostly faced by potential young entrepreneurs in India: the lack of proper guidance.
Now many of the young minds may have brilliant ideas, but may not have the required experience or knowledge to carry them out.
Foreign countries painstakingly focus on mentorship programs for the youth from an early age. They also focus to make the process of attaining mentorship easier.
---
4. BRANDING/MARKET VALUE
It is extremely ardent for startups to focus on their marketing aspect as it not only gives a significant identity to their product but also helps in influencing the customer's mind.
Often Indian startups tend to underestimate the aspect of branding in their venture which not only makes their venture lack the required branding status but it also indirectly prevents the process of startups to flourish at a fast pace.
On the contrary, foreign startups programs emphasis the importance of creating a brand image as being of top-most importance. They encourage the fresh ventures to focus on creating a systematic and creative way of marketing for their product or service.
---
5. INFLEXIBLE RULES AND REGULATIONS
In India, the process of getting your startup or venture verified and registered is complicated and a long one. The truckload of requirements to complete the process of registration including rigorous labor laws, intellectual property rights, and many more add to the complexity of the process.
It is not that the requirement of these procedures is unnecessary. NO, these requirements are absolutely necessary. These are the rightful laws that are and should be pertained around the world but the procedures to carry out the same should be made more convenient and easier so as to facilitate a smooth process of registration.
6. REVENUE
In the long run, as the business expands, the capital requirements too increase to sustain the growth of the business. But sometimes the increment in the capital requirements leads to a static or decreased profit generation by the company which in turn forces the founders to focus more on capital generation rather than the fundamentals of business which are vital in expanding their venture further.
The trick of the trade of foreign start-ups to avoid decreased revenue generation is to secure enough funding for their venture throughout the initial phase that eventually the company starts generating profits.
---
7. DISRUPTING THE MARKET
Another important challenge for startups is to disrupt the market by innovating something unexpected and irreplaceable.
Without a smidgen of doubt, the youth in India have very promising ideas for their venture however one can not deny that proper knowledge is required to compete with the already established and renowned players in the market. Even though the latest technologies are available, its expensive cost acts as a major limitation for Indian startups to proceed further in this arena.
Most of the countries around the world, for instance, the United States of America or the European countries try to ensure to provide access to the latest technologies at an affordable and reasonable price. Thus, this is one of the key reasons behind how foreign start-ups are able to create a disruption in the market.
---
8. SOCIETAL ACCEPTANCE
Unlike in foreign countries, startups in India have to go through a major test to reach the destination of success and that is of passing through the stage of attaining societal acceptance of their product.
A large proportion of consumers in India are not willing to take risks and try out new ventures. They won't trust your product or service until and unless they foresee a minimum of 80% chance of leverage.
---
9. LACK OF AWARENESS
Lack of awareness is probably the most important reason why Indian startups are unable to compete with foreign startups present in the global sphere.
The awareness regarding entrepreneurship and mentorship programs starts from a very early age in foreign countries. They focus on providing proper knowledge to their youth from the very beginning which inevitably helps in minimising loopholes for the future. This is done through holding regular mentorship webinars and programs in schools and colleges, which helps in providing a clear mindset to the children towards their goals. This clarity in terms of their goal acts as a major factor of motivation and also provides the required confidence to attain it.
In India, a lack of awareness and clarity to the youth regarding their goal paves a way of confusion and problems for them. These factors act as a major hindrance in achieving their goal as they lack the proper knowledge to advance towards their goal.
---
10. OTHER ADD ON CHALLENGES
In addition to the few challenges that have been mentioned above, there still remain other challenges that act as a hindrance for Indian startups to compete with startups across the globe like: improper utilisation of resources, corruption, limited availability of resources, lack of proper investment, shortage of platforms to promote or pitch the ideas of potential startups so as to aid them with the required knowledge to carry forward the venture further, ineffective team cooperation and management, etc.
---
Conclusion
These challenges may further act as an obstacle in the path of success for Indian startups which further restrain their growth and thus, all of this contributes to the inability of the Indian start-ups to compete with foreign start-ups.
The motive of this blog is to make you aware of the challenges that you may face in the initial period of your start-up which, if not taken care in advance may result in slow or stunted growth of your venture. Because as they say
Better safe than sorry!
These were the reason "why Indian Startups are unable to compete with Foreign startups".
All the best!
For more information